Hand Trucks
Currently, Taiwan Advindeq has a variety of aluminum ladder lined multi-purpose for users to comfortably choose the type of ladder suitable for use. Taiwan foldable aluminum ladder is a versatile, secure, high-mobility ladder, with one or more hinged lock pairs, which allows the user to use as a single vertical ladder into the shape. I, or folded, expanded into several different sections, so users can choose freely according to their needs....
Trolley folded arms folded beautifully, rounded at angles. In particular ADVINDEQ trolley, ADVINDEQ trolley with steel frame is nickel-plated steel, looks very shiny, glossy, very lively. This type of trolley suitable for use in luxury areas such as offices, hotels, restaurants. The unique feature is the folding of the car can be folded down, it is convenient to carry the truck to carry goods or take off when not in use.
Depending on the load, folding hand trolleys are also well used for industry, factories, and workshops where space is narrow. Wheel is used to drive bearings, rubber tires should be suitable for road conditions of bumpy, rugged.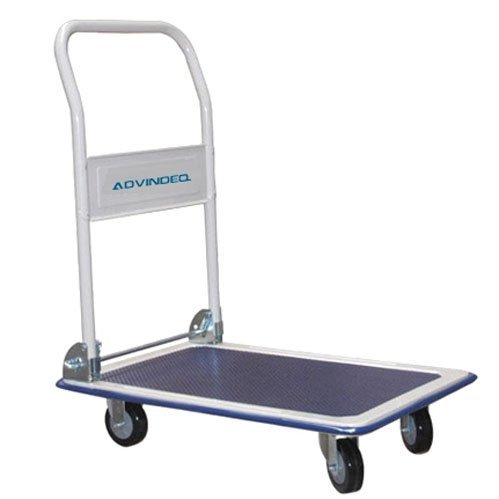 The Advindeq trolley on the market today has two main categories namely the Advindeq plastic trolley and the Advindeq steel trolley. Both of these vehicles are imported complete units in Taiwan, are manufactured in 100% European standards and lines, light weight, beautiful design, easy to use and very competitive price, suitable With many objects used.
Two popular Advindeq platforms are the Advindeq AV120 and the Advindeq AV230. This is a hand trolley, capable of super-folding, the joints and thick wheels are firmly designed. However, the weight of the car as well as the load of these two kinds of trolley Advindeq has a distinct difference.
Besides, Advindeq also introduces to the consumer trolley line specialized steel floor HD150 and HD300. The car floor is made of high quality steel, both of which are designed to be sturdy, able to carry high loads. In addition, both vehicles are equipped with rubber protection pads for the pushers and rubber grip for added stability, which can be used conveniently and safely.